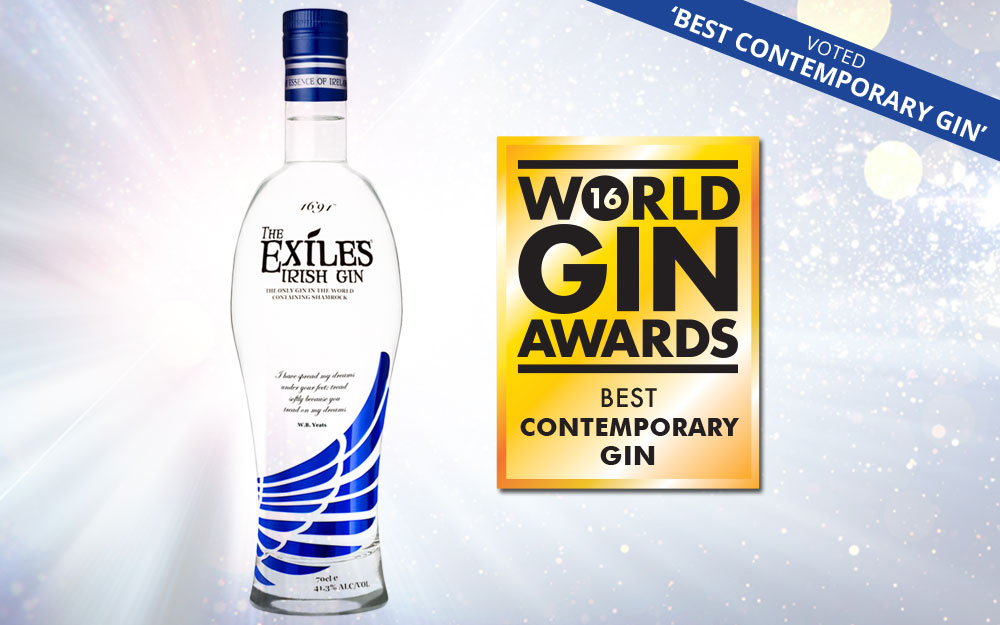 The multi-award winning Avalon Group is celebrating victories at the 2016 Vodka Awards and 2016 Gin Awards. Untamed® Irish Vodka has been named as the World's Best Pure Neutral Vodka as well as the Best Irish Pure Neutral Vodka at the World Vodka Awards 2016.

The Exiles® Irish Gin won Best Irish Contemporary Style Gin at the World Gin Awards 2016. Both spirits were launched by the Avalon Group in 2014.
The World Vodka Awards and World Gin Awards competitions are part of the overall World Drinks Awards programme. Selected by an international panel of experts over three rounds of judging, the awards were presented by Founder and Editor of TheDrinksReport.com Felicity Murray.
In 2015 The Wild Geese® Rum won the World's Best Golden Rum at the World Rum Awards.
At the 2016 awards, the Avalon Group won:
World's Best Pure Neutral Vodka 2016 – Untamed® Irish Vodka
Best Pure Neutral Vodka 2016 (Ireland) – Untamed® Irish Vodka
Best Contemporary Style Gin 2016 (Ireland) – The Exiles® Irish Gin
Commenting on the awards, Andre Levy, Chairman of Protégé International, the exclusive sales and marketing agency for the Avalon Group, said, "We are honoured, that Untamed®Irish Vodka has been named Word's Best Pure Neutral Vodka and The Exiles® Irish Gin as the Best Contemporary Style Gin for Ireland at this year's awards. We work hard to produce the very best for our customers who have come to expect a distinctive level of excellence. These awards serve to recognise not only these efforts but also showcase authentic Irish ingredients and themes amongst the best in the world.
This means that Avalon has won Best in Class for every category it markets its brands in, Irish Whiskey, Rum, Vodka and Gin.  This is a rare accomplishment and highlights Protege International's skills in brand creation and in producing premium spirits. (Note to Editor: Protégé International Group (BE) B.V is Avalon's exclusive brand and marketing agency)
Untamed® Irish Vodka is the first and only super premium vodka produced in Ireland. The  spirit is double distilled, first from Irish apples and grain with the second distillation achieving optimal purity and a distinct smooth taste. The bespoke Untamed® Irish Vodka bottle features spectacular chrome wings, symbolic of the Unbroken Irish spirit and its goal of freedom for everyone.
The Exiles® Irish Gin is produced using botanicals that grow in the wild across Ireland, is the only gin in the world that contains shamrock and is patented. This unique spirit is distilled five times for ultimate purity, resulting in a smooth and floral gin infused with Irish ingredients.
Shop Now on Amazon