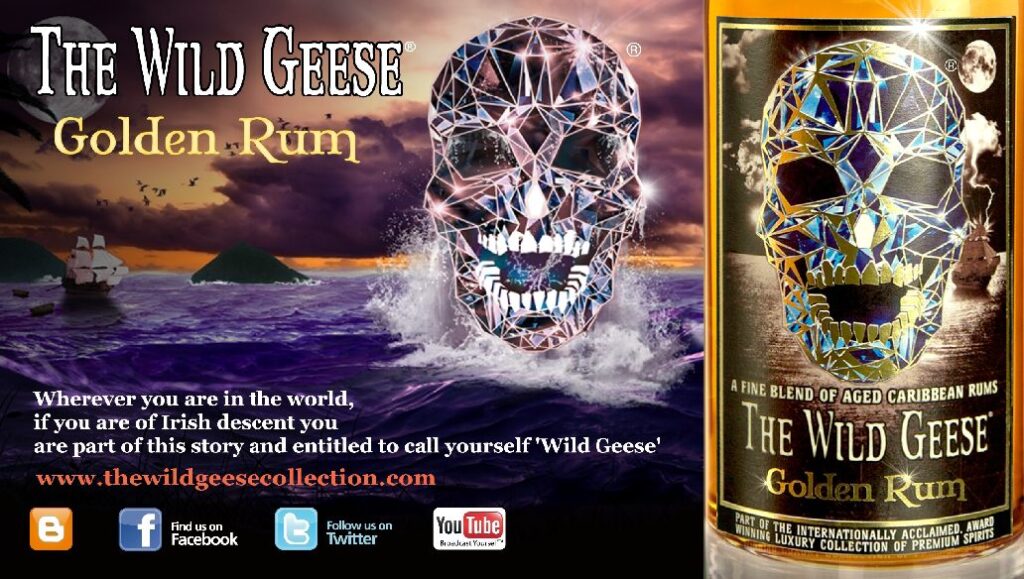 The Wild Geese Collection – voted 'BEST IRISH WHISKEY' three times – now extends to include a tantalising Rum Collection.

Launched in European domestic markets – already proving a hit with consumers in Germany.
Listed in some of the leading German bars and retailers.
TFWA marks the launch of this extraordinary rum into Duty Free channels – visit Stand L35.
Don't Miss Out: The Wild Geese Golden Rum is a powerful and memorable brand, mixing the inspiring story of The Wild Geese in the Caribbean with a high quality Caribbean rum.
THE WILD GEESE GOLDEN RUM
Unique blend, belonging exclusively to The Avalon Group, made of hand picked parcels of aged rum and matured in bourbon oak barrels.
Versatile yet complex pouring rum – great on its own and perfect for mixing cocktails.
Outstanding shelf presence – UV label that glows in the dark.
Commemorates the story of The Wild Geese in the Caribbean:
Forced into exile to work on plantations, their story of courage has largely been untold until now.
Determined to win freedom, those that escaped, blazed a trial across the endless blue as liberators and pirates of the Caribbean.
Wherever you are in the world, if you are of Irish descent you are part of this story and entitled to call yourself Wild Geese.
To experience the latest addition to this internationally acclaimed Collection of Premium Spirits, join The Wild Geese at Stand L35 at TFWA Singapore.
Join us online, WEBSITE: http://www.thewildgeesecollection.com
FACEBOOK: http://www.facebook.com/thewildgeeseirishwhiskeycollection