See full article here
Dublin, Ireland, 16th March 2015: The Wild Geese® Soldiers & Heroes Premium Rum, a star performer in the multi-award winning The Wild Geese® Collection of Caribbean Rums, has won a silver medal at the prestigious Global Rum Masters 2015.
An annual event, the Global Rum Masters showcases the achievements of the world's most talented rum producers. Hosted in London, England, this year's competition featured a record-breaking number of entries, presenting diverse styles, complexities and flavours, each rigorously tested through blind-tasting by a panel of expert judges.
Significantly, the category in which The Wild Geese® Soldiers & Heroes Premium Rum participated – 'Dark up to 7-year Old' – was described by the judges as having "a much wider complexity" than other categories in the competition. Medal recipients in this category were described in the judging as "incredible – aromatic and flavourful".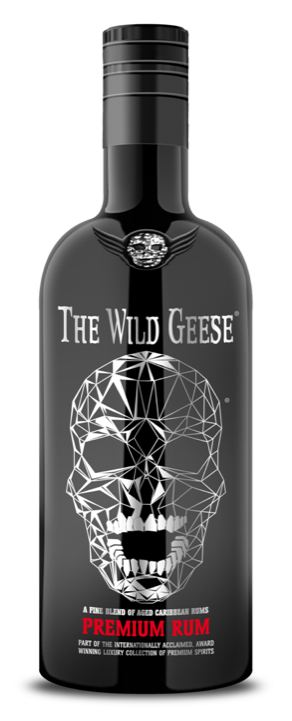 Welcoming the news, André Levy, Chairman of Protégé International (exclusive global distributor of Wild Geese® Soldiers & Heroes Premium Rum) said The Wild Geese® Soldiers & Heroes Premium Rum is part of an extension of The Wild Geese® Irish Whiskey range, which includes Rare Irish Whiskey; Limited Edition; Single Malt; and Classic Blend expressions.
He added: "The essence of The Wild Geese® brand identity is the heritage, pride and emotional connection that resonates historically and today among the Irish diaspora the world over. The story of the Wild Geese is a story not of failure, separation and sadness, but of determination, unity and success. Capturing that in a glass is what we have striven to do, and the results are there for everyone to see – and taste. To be recognised again within the industry at the highest level for the quality of our rum is a tremendous feat. We look forward to growing our distribution footprint into the future, beginning with our active participation at the upcoming WSWA (Wine & Spirits Wholesalers of America) Annual Convention & Exposition in Orlando, Florida (April 12-15) and the TFWA (Tax Free World Association) Asia Pacific Exhibition & Conference in Singapore (May 10-14)."
Much attention has been drawn to the distinctive, eye-catching labelling of The Wild Geese® Soldiers & Heroes Premium Rum. Explaining its statement of intent, André Levy said "The skull on the label glows under black light and serves as a beacon of resilience. The skull is a representation of pirates, and many people don't know this, but about 15% of pirates in the Caribbean were actually Irish," he revealed.
About The Wild Geese®Soldiers & Heroes Premium Rum
The Wild Geese® Soldiers & Heroes Premium Rum is an intense, bright gold blend of rums, aged for up to eight years, from Barbados, Jamaica and Guyana. Its clean pronounced nose hints at its soft, aged Bajan heritage and honeyed aromatic Guyanese and Jamaican pot still character. On the nose, there are distinct yet light and fresh notes, sage and eucalyptus, in harmony with a strong depth. The palate is an elegant balance of deft sweetness and pronounced alcohol starting with a light vanilla, mango and banana, smoothly developing into the burnished, rich nuttiness of ripe asparagus and herbaceous eucalyptus. Light anise and camphorous ginger come to the front before softening into a long, pleasant, almond and butterscotch finish, carefully holding just long enough to leave a light spicy and floral resonance.